Carnitas are a big deal in my house. It takes me six hours to make them on my stovetop when I use a big pork shoulder, but that wonderfully juicy shredded pork with crispy edges is worth every minute. I only make it in the winter, though, because naturally it heats up the whole apartment.
While I await carnitas season, I discovered this carnitas recipe that uses oyster mushrooms instead of pork. Not only did it only take about 30 minutes, it's also much healthier.
The secret to using mushrooms as a meat replacement is to give them some extra time to cook off their moisture. Baking these juicy blue oyster mushrooms in the oven gave them crispy edges that simulated the texture of real carnitas. Even better, though, I felt great after eating these – not sleepy and weighed down as I would with the traditional ones.
Though I'm not ready to completely give up my favorite meat dishes, I love finding recipes like these that can be adapted to be totally free of animal products. Even replacing one or two meals a week with a vegan or vegetarian recipe can do wonders for your health and your carbon footprint. Mushrooms are grown in a way that is much more earth friendly than meat and most vegetables.
The queso fresco is optional, if you omit it you'll have a vegan recipe. Or, you can try making vegan queso fresco. I haven't tried yet, but I'm surprised at how many recipes there are to try, and they all look pretty easy and affordable.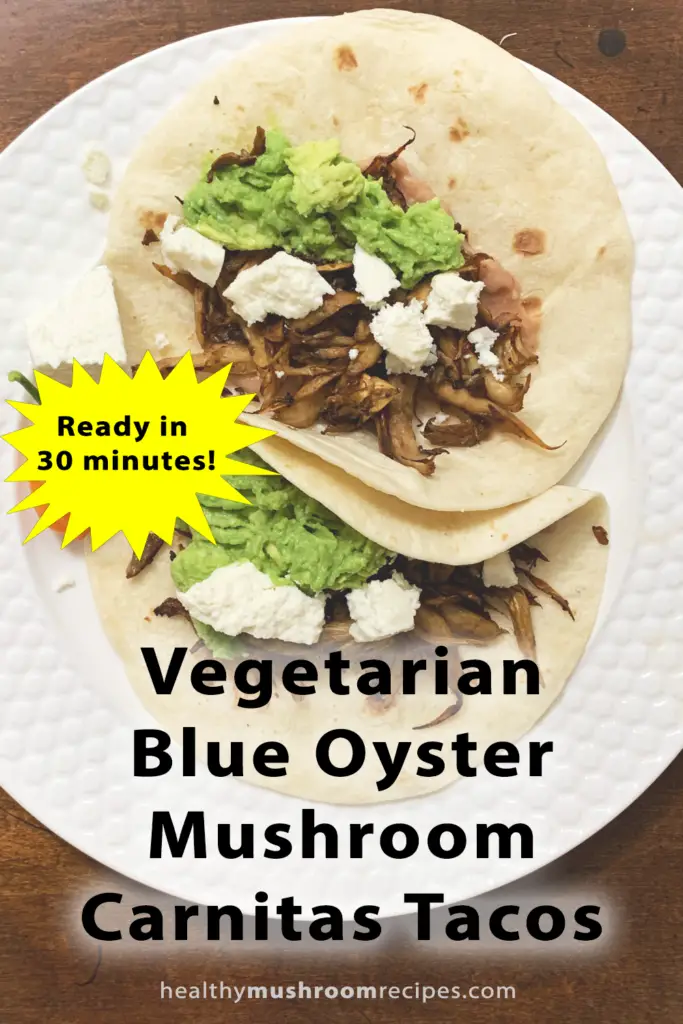 Ingredients
16 ounces blue oyster mushrooms
2 tablespoons olive oil, separated
Taco seasoning - premixed or salt, cumin, oregano, & garlic
1/4 orange juice
1 tablespoon Worcestershire sauce or soy sauce, vinegar, & molasses
Small taco tortillas, corn or flour
1/4 tsp bouillon
Pickled jalapeños
Refried beans
Queso fresco
Quick guacamole
1 avocado
1 tsp onion powder
1 tsp salt
1 tsp lime juice
Refried beans
1 12-ounce can pinto beans
1 tsp salt
1/2 tablespoon onion powder
Instructions
Preheat oven at 400° Fahrenheit (204° Celsius)
Shred oyster mushrooms by pulling them apart with your hands, then tear with two forks until you have an uneven texture similar to shredded meat.
Combine mushroom with 1 tablespoon olive oil and taco seasoning.
Line baking sheet with parchment paper.
Spread mushroom mixture evenly over parchment paper. Bake for 20 minutes. Do not flip.
Once mushroom shreds are tender with crispy edges, place in cast iron pan with orange juice, Worcestershire sauce, and bouillon. Brown until liquids evaporate.
Meanwhile, warm tortillas on stovetop burner grate, on a pan. Or, warm a stack in the microwave covered in a damp paper towel.
For quick guacamole, mash avocado and combine all ingredients.
For refried beans, remove mushrooms from pan. Drain and rinse beans. Place beans in pan. Mash with a fork or potato masher. For smooth texture, use a stick blender. Add salt and onion powder.
Assemble tacos, crumble queso fresco on top, and enjoy!