Posted on August 12, 2021 by Umami Mami
Share the deliciousness!
Featuring a 1:3 mixture of white button mushrooms and lean ground beef, these burgers are an upgrade that's easy even for picky eaters in your family to accept.
You never forget your first smashed-style burger. I was never a "burger person" because I have a small mouth. Yes, really, multiple dentists have told me so – mostly in the context of why I needed to have my wisdom teeth removed, but nonetheless, making it difficult for me to enjoy sky-high burgers stuffed with toppings.
You don't have to have a clinically small mouth to enjoy smash burgers. You'll love how you can actually get every ingredient in each bite without straining your jaw, and the patty itself is juicy and evenly cooked.
I have a confession to make – I always smash my burgers with my hands, rather than a spatula. I could never get the spatula to smash without sticking.
So if you're feeling adventurous and the spatula isn't cutting it… smash with care!
Mushrooms not only stretch your meat – for two people, we had leftovers for dinner the next day – they also lower the overall fat per serving, add healthy antioxidants, and help the burger retain moisture even if you cook to well done.
Tips & Modifications
Next time, I'll try touch of sweetness like Worcestershire sauce or even ketchup mixed into the blend prior to cooking.
As with all beef burgers, you can cook these to your desired doneness.
At 3-4 minutes per side, I got our desired well done burgers. It's just a personal choice – the way bacteria can be mixed into ground beef makes it a little riskier than a steak, which can be cooked to less-than-well-doneness to eliminate surface bacteria. Again, it's up to you.
These thin burgers will cook up very quickly, so if you're hoping for a little pink, flip fast!
We decided to have this with a side of poutine because. I had some cheese curds from the farmer's market that needed eating.
Cooking on a cast iron pan retains those juices for a moist burger, and also meant we had drippings for a quick homemade gravy. I melted a few tablespoons of unsalted butter into the drippings, browned 2 tablespoons of flour in the melted butter, and then mixed in some beef broth, then cooked until thickened.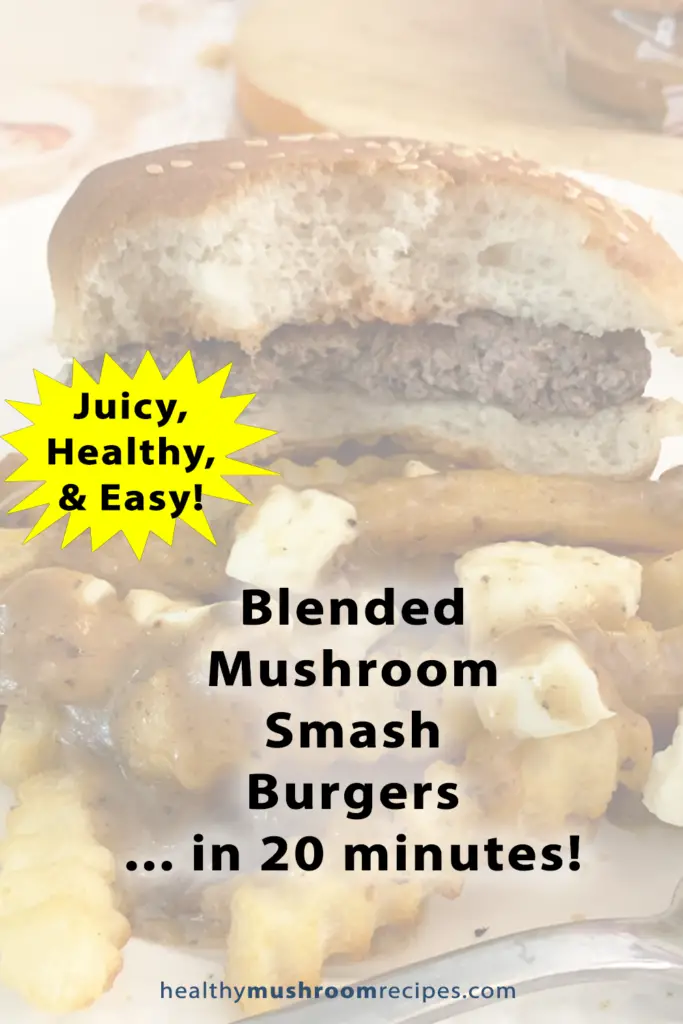 Ingredients
8 ounces white button mushrooms
16 ounces lean ground beef
1 tablespoon mayo
salt & pepper to taste
garlic & onion powders to taste
sliced cheese, optional
Instructions
Finely chop mushrooms, including stems.
Saute mushrooms in a little olive oil to release flavors and moisture, until excess moisture has evaporated. Set aside and let cool.
Season ground beef as desired, mix in mayo.
Mix in cooled mushrooms.
Shape into 6-8 balls.
Drop burger balls onto heated cast iron pan and use a spatula to press thin. Cook on one side for 3 minutes.
Sprinkle with salt and pepper, then flip.
Melt cheese over patty, if desired. Cook for additional 3 minutes.
Serve on buns with lettuce, tomato, avocado, onions, pickled jalapeno, or your favorite toppings.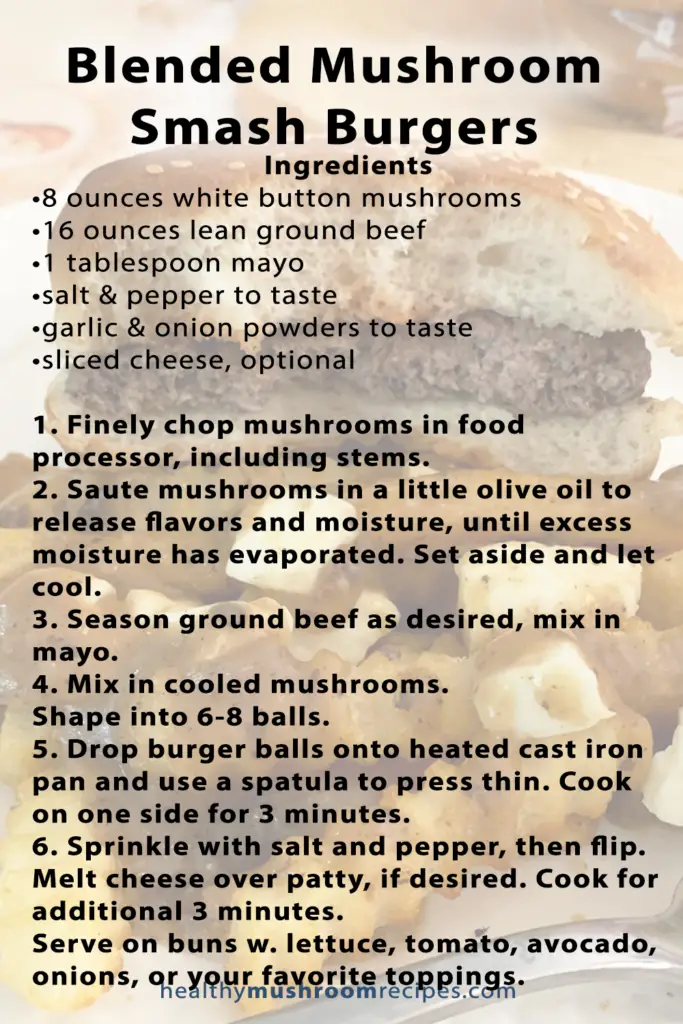 Share the deliciousness!