With all the stirring, risotto is more labor intensive than your typical rice side dish – but it's so worth it. The starch released from the toasted grains makes it creamy, even if you don't want to add the cream cheese.
I always make this risotto when my boyfriend is having a tough week, or when we're celebrating a birthday or anniversary. Really, I can always come up with an excuse to get my risotto on, and it never fails to put us in a good mood.
It's so tasty and filling without being heavy. I love that I can add frozen spinach or kale for a veggie boost, and this is also one of my favorite ways to use baby bellas, in case you couldn't tell.
This risotto can easily be a meal all its own, though I normally make something else with it too.
Stirring Your Risotto
If you don't normally make risotto, you might feel intimidated by the constant stirring. You'll want to give it a good stir every 1-2 minutes, giving you some time to work on other things or wash a dish or two between stirs.
There is such a thing as too much stirring, as it could get too goopy, but this hasn't happened to me. You do want to rough up the grains so they release their starch, but there's no need to punish them.
It should take about 30 minutes to absorb all of the liquid into the grains, but if it feels like it's moving along slowly, you may need to turn up the heat. You want your stovetop to be at about medium heat so your risotto is gently simmering as you stir.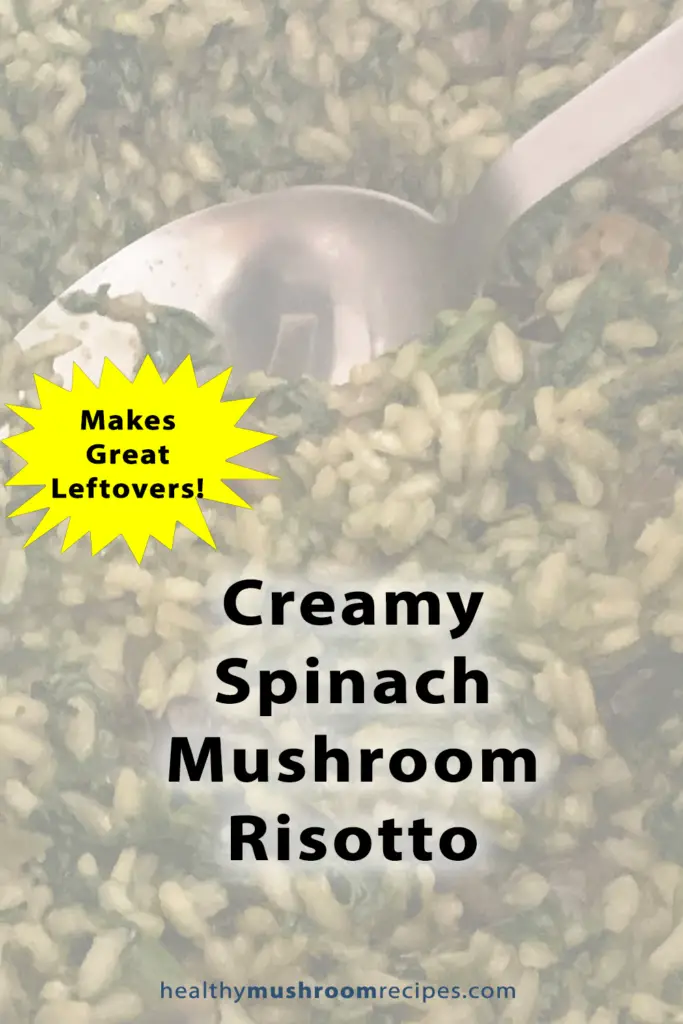 Ingredients
2 tablespoons olive oil, separated
8 ounces baby bella mushrooms, coarsely chopped
Fresh garlic, minced, as much as your heart desires
6 ounces fresh or frozen chopped spinach (about four handfuls of fresh spinach)
1 cup broth (beef or veggie) or 1 cup water + bouillon of your choice
3 cups water
Italian seasoning
1 cup arborio rice
Vegan or regular cream cheese, flaked parmesan, (optional, as desired)
Instructions
Sauté mushrooms and garlic in olive oil until tender.
Add spinach and cook until wilted.
Add broth/bouillon and water, seasonings. Bring to a boil then remove from heat.
Toast rice in olive oil until golden and fragrant.
Add 1/2 cup of liquid from mushroom/broth mixture and stir constantly until absorb.
Continue adding broth, 1/2 cup at a time, stirring constantly until liquid is absorbed before adding more broth. This will take about 30 minutes.
If desired, stir in cream cheese. Risotto should be creamy without the addition of cheese, but we love ours with a few tablespoons of cream cheese.
Serve as a meal or side. Sprinkle parmesan on top, if desired.